Back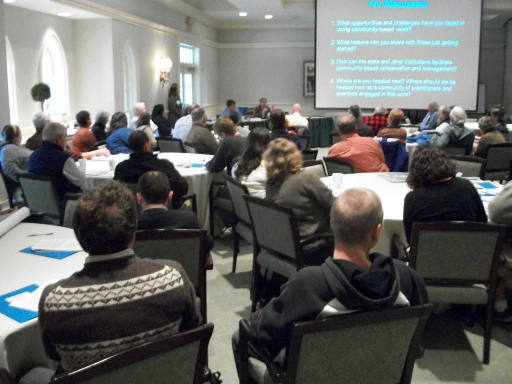 Maine Coastal Waters Conference, October 28, 2009. Northport. Audio mp3s.
See state website of the conference. The event had 10 sessions
Paul Anderson, Maine SeaGrant Welcoming remarks
George Lapointe Remarks & introductions by Maine Marine Resources Commissioner
Angus King: "Ocean related energy"
BDN's coverage of King speech
Dr Susanne Moser, UC Santa Cruz: "Let's talk Climate: Communication for Effective Community Engagement 46 minutes.
Workshop IV. Community Participation in Management & Conservation of Coastal Ecosystems
Heather Leslie, Brown University . On framing your message, locally, nationally 19 minutes
Paul Dest, Damariscotta River Association Engaging the community with preserving coastal resources
John Sowles, ex-DMR Ecology Director Local ecosystem based resource management inTaunton Bay
Workshop audience Q&A 32 min.
Workshop VII Tools for dealing with natural resources & human uses at the community-level
Chris Feurt, Wells National Estuarine Research Reserve "Collaborative Learning for Communities"
Beth Bisson, Maine SeaGrant "Seascapes"
Shey Conover, Island Institute "Using Community GIS"
Jennifer Atkinson, Quebeb/Labrador Foundation describes "Muscongus Bay Community Atlas"