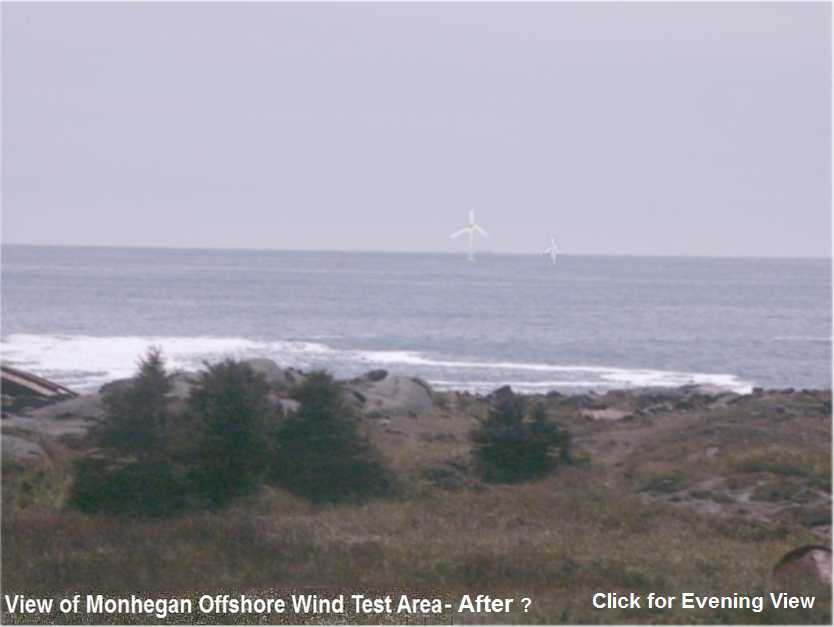 Monhegan Offshore Wind Test Area Oversight.
Maine's Legislature and Executive Branch have authorized the University of Maine to occupy a 1280 acre deepwater tract southeast of Monhegan Island to test build two deepwater floating wind turbines, a 100 kilowatt tower and a ten kilowatt one. Can Town & Gown coexist in the windy waters off Monhegan?

Litigation Update: Huber v. Dept of Conservation. Did Parks & Lands Director Harris blow off the Monheganites, human and wildlife, when he signed off on the Wind energy test area? Maine Superior Court will decide.

Legislation Update. February 2, 2010 Audio. In this mp3 recording , the Maine Legislature's Utilities & Energy Committee reviews and discusses with Pete Didisheim of NRCM a revised version of LD 1504. Now renamed " An Act to provide predictable economic benefits to Maine communities that host wind power projects", the bill would require communities to negotiate Community Benefit Agreements with utilities that want to move into their backyards, whether the community wants them or not. Representative Van Wie proposes a Wind Production Tax on facilities over over 25 megawatts. Listen to a January 20, 2010 discussion of the bill.

Upcoming: LD 168. An Act To Assist in Reviewing Wind Energy Applications Public Hearing, January 28, 2010. 100PM, Room 211 Cross Building, Augusta.

Timeline : January 2005 to February 2010 ***Contacts Officials, academics & others involved.

Maine Offshore Wind Public Events - Online audio of speakers at Maine Offshore Energy '09 S 11/29/09 , at Energy Ocean 2009 June 15-18 , 2009 and at the 2009 ME Fishermen's Forum Ocean Energy Workshop 3/7/09

Documents:
1/14/10. Documents from Maine Dept of Conservation in response to a Freedom of Access Act request.

12/14/09 decision by Maine Bureau of Parks & Lands to designate Monhegan Island site as one of three "Offshore Wind Energy Test Areas" off the Maine coast*** html version and text version

12/ 21/09 Maine Coastal Program releases 87 page Final Report of the Ocean Energy Task Force . (pdf) . See pages 63-68 to see what easing of environmental laws the ocean windpower industry is seeking. .

Media Coverage Working Waterfront ** The Free Press *** Maine Public Broadcasting ** Bangor Daily News ** Offshore Wind Wire *** Google News Coverage
The Monhegan wind test area lies in deep water near a historic fishing ground: the Monhegan Inner Sou'Sou'west Ground . (As described in "Fishing Grounds of the Gulf of Maine, 1929" See clickable map here. Monhegan is lowest green spot on map.
Click floating windmill for latest info on this tech.