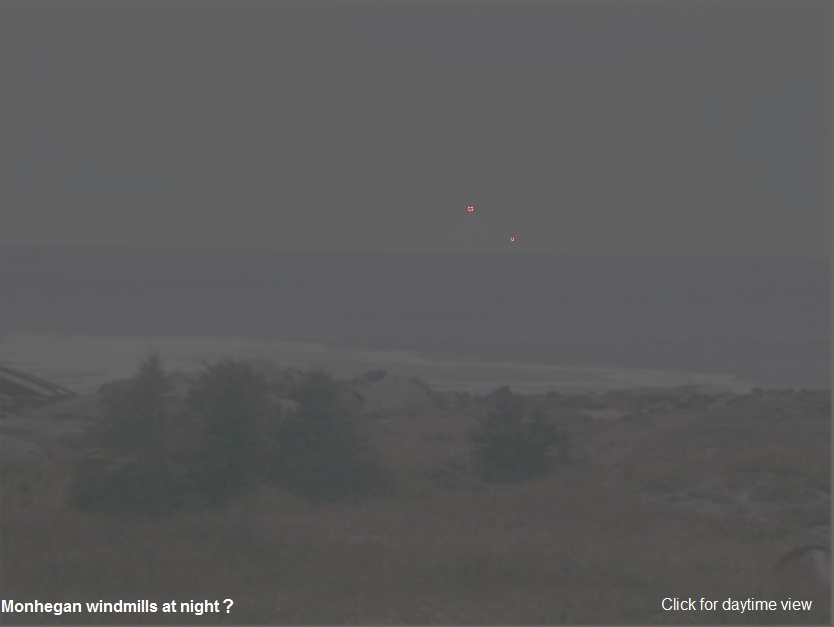 Monhegan Offshore Wind Test Area Oversight.
Industry/Academic Reports
* 2015 US Offshore Wind: Status Update (pdf) Paragon Asset Group.
Media coverage: Press Herald and WCSH TV
BACKSTORY. Maine's Legislature and Executive Branch have authorized the University of Maine to occupy a 1280 acre deepwater tract southeast of Monhegan Island to test build three deepwater floating wind turbines, a 100 kilowatt tower, a ten kilowatt one, and a third one. Can Town & Gown coexist in the windy waters off Monhegan?
2005-2010: Timeline: January 2005 to February 2010 * **Contacts Officials, academics & others involved. (as of 2010)
Legislation Update, April 17, 2010. On April 7, Governor Baldacci signed LD 1810 into law, implementing the results of the Governor's Ocean Energy Task Force , as tempered by the immovable opposition of Maine lobstermen and groundfishermen to loss of fishing grounds. Listen to recordings of the legislative hearing and work sessions for this bill
Maine Offshore Wind Public Events - Online audio of speakers at Maine Offshore Energy '09 S 11/29/09 , at Energy Ocean 2009 June 15-18 , 2009 and at the 2009 ME Fishermen's Forum Ocean Energy Workshop 3/7/09
Documents:
1/14/10. Documents from Maine Dept of Conservation in response to a Freedom of Access Act request .
12/14/09 decision by Maine Bureau of Parks & Lands to designate Monhegan Island site as one of three "Offshore Wind Energy Test Areas" off the Maine coast*** html version and text version
12/ 21/09 Maine Coastal Program releases 87 page Final Report of the Ocean Energy Task Force . (pdf) . See pages 63-68 to see what easing of environmental laws the ocean windpower industry is seeking. .

Media Coverage Working Waterfront ** The Free Press *** Maine Public Broadcasting ** Bangor Daily News ** Offshore Wind Wire *** Google News Coverage
The Monhegan wind test area lies in deep water near a historic fishing ground: the Monhegan Inner Sou'Sou'west Ground . (As described in "Fishing Grounds of the Gulf of Maine, 1929" See clickable map here. Monhegan is lowest green spot on map.
Click floating windmill for latest info on this tech.
Litigation Update: Huber v. Dept of Conservation Legal filings. Background: Click Here